I really couldn't be any happier for this day to be here. To make it better, I get a 3 day weekend. Just wish I could spend one of those days in bed all day be waited on. Oh the dreams I dream!
Not only is it Friday, but that means it's time for 5Q Friday!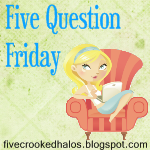 Rules for Five Question Friday: Copy and paste the following questions to your blog post, answer them, then watch for the linky post to appear on Friday morning, at which time you "linky up"! If you don't have a blog feel free to answer the questions in the comments!
1.
What do you do when you have time to yourself?
Well I like to read, blog, blog design, play w/ my dogs, take a hot bath, sing at the top of my lungs, cry, laugh, enjoy the silence, and the list could go on. I really need a by myself day right now.
2.
When you look out your kitchen window, what do you see?
My willow tree!
Isn't she a beauty!
3.
Who/What would you want to be reincarnated as?
Nothing. Living this life once is enough for me.
4.
What is your biggest pet peeve about other people's kids?
There are so many. I don't know I can pick just one. But if they are at my house, it would be climbing all over my stuff. But it's more lack of
parenting
then it is the kid that is my pet peeve.
5.
Regular or Diet soda?
Regular please! I can't stand the bitter taste of diet.