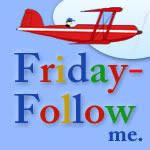 It's Friday and that means it's time for the awesome Friday Follow! This week my wonderful "damn clean friend"
Heather
is featured. So be sure to link up and check out her blog as well!
So it's been a while since I posted, or have been around to blogs. SORRY! This past week has been crazy. Supervisor at work wanting to quit, new rules, new responsibilities, and trying to clean up after several other peoples mess has had me stressed to the max at work. Thanks
Heather
for being so patient and listening to me whine, bitch, and complain this past week.
So on top of work stress there has been home stress. Hubby and daughter are fighting like a couple of elementary kids, and I swear they are going to be the death of me.
So I'm back, I'll be around, I'm making it around to blogs....I've missed you all!