I love reading her questions and answers, so I decided this week I will jump on the band wagon and answer away to.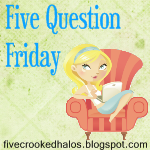 So here's how it works! You head on over to
Mama M's Blog
, copy and paste the questions...answer them of course, then go back and link up! Don't forget to link up to
Mama M
also!
So here goes nothing:
1.
What words do you use on your blog/online that you don't use in real life?
There are honestly no words that I use on my blog that I don't use in real life. It's more of a reversal, there are a lot of words that I use in real life that I don't use on my blog. I promise you do not want to know those words!
2. Do you still write checks?
Hmmm...I wrote a check to Lexi's school, but that was to cover lunches. Other than that I don't write checks, it's entirely to hard for me to keep up with. Besides I really really hate getting behind people who write checks at the grocery store. That check is now run like a debit card, so just use the damn card!
3. Who was your favorite President and why?
I'm an evil bad person, I've honestly never paid attention, horrible I know, but that is also why I don't vote. I don't think I should be voting blind.
I think you should ask Heather if I am a yeller. Yes, I am terrible about yelling, at other drivers, at my husband, at my kids, when ever I'm mad. It really just comes out, and then I realize later that it wasn't anything worth yelling about.
So there you have it! My all out Five Question Friday honesty! This was fun! Go ahead, do it!
5. Have you ever dumpster dived?
Nope, I've never gone dumpster diving. I'll be honest, I really don't know what it is!