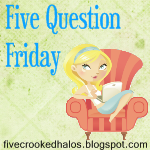 I loved doing this MeMe but it's been awhile since I have, so I'm back in the game!
Rules for Five Question Friday: Copy and paste the following questions, answer them, then make sure to link up when the

linky's

up! I typically post the

linky

early Friday morning, so watch for it! If you are "

blogless

", feel free to answer the comments below!
1.
Do you have any nicknames and if so how did it come about?
I do have a few. When I was younger it was Monkey, apparently because at some point I would only eat bananas. Now it's Lissy, or Lissa to my family. At work they call me Macaroni, because of my last name and because I swear they like to name people after food. The part time receptionist nickname is Pickle. Go figure.
2.
What is your birth order amongst your siblings?
Oh I am the baby. Yep, spoiled rotten brat I was. Have you ever heard the song The Baby by Blake Shelton (click it but be warned you WILL cry, I still cry every time I hear it.) that explains my birth order almost perfectly.
3. In a movie of your life, who would play your significant other?
Does this person have to resemble my husband? Because I don't think there is one that would. But who would I want to...Jeff from BB 11, Yum, or David Tutera even if he is gay, he is HOT.
4. What is currently your favorite song?
Aside from the above song, my favorite song at the moment is I Pray For You (Go ahead listen to it now, you won't be sorry!)
5.
Are you saving your money for anything right now? Big or small purchase?
Right now I am saving for Christmas. I want to not have to worry about money at the moment.
Go back, link up, and play along w/ us!