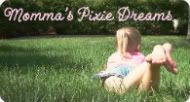 So remember last week I mentioned that Michelle at Momma's Pixie's Dreams has challenged me to drink more water. Her rule for me was to drink 1 water for every Mt Dew. So I'm here to give you an update.
I have to be honest I'm not doing so well. I get up in the morning and the first thing I go for is Mt Dew. But I do drink it all day while I'm at work. I have my Mt Dew with me and I only drink that on my breaks when I go out to smoke, but other than that I drink my bottle of water. It's only 1 bottle though. I haven't had any at home except last night I had half a bottle. I'm going to do better though. I swear!
You know I am an animal lover and I have a favor to ask. Please help to donate to the animals. This costs you absolutely nothing. All you have to do is click a link every day. I'll post it on my blog. I want these poor animals helped and this is an easy way to help them.
Also if you register for an account, you can earn points for every click and cash those points in for rewards.
Click to help your favorite charities and earn free rewards too!
Click Here