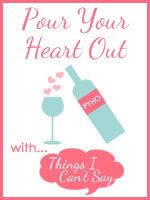 Again, just a brief reminder that everyone linking is pouring their hearts out and we should all be respectful in our comments. ;)

I contemplated long and hard about what I wanted to pour out to you. It seems that there are a lot of things I would love to just get out, but I know some people have access to my blog and there are things I don't want them to know. So today I tell you....
I hold a lot in. I hide a lot of things. Why? Because they are private, and scary to share. When I was younger, I really didn't care about people or what they thought. These days though, I hate being judged. Yes, the truth really does hurt, and sometimes it hurts more than people realize. Sometimes all I want is advice, not ridicule. I don't want to hear how horrible my decision was, I don't want to be judged on that decision, because in the end I have to live with it. If my decisions make me a bad person, then fine, step out of my life. Even worse to me is when they feel the need to tell everyone what they felt was a bad decision. What may be a bad decision to you, may be the right one for me. So if I beat my kids, go ahead judge me on it, because that would be a bad decision. If I choose to let my child do something you think is wrong, it may not be, I still monitor them and their activities very closely. So here's me judging....just because I allow my children to do something, because I do monitor them, don't judge my decision because you wouldn't allow yours because you don't have "time" to monitor them. I MAKE TIME!